Product Description

Games of Fortune's Fair is the 3rd murder mystery adventure of the series Mysteries of Middlerock and takes place outside the walls of Middlerock City, a homebrew setting published by Brightlybrewed. The adventure is compatible with 5th Edition and designed for four characters of 5th level as either a short standalone campaign, or to be incorporated into a longer campaign.
---
It is time for Emma Pearlstone to get to work and plan out the upcoming theme of Fortune's Fair, the most anticipated annual event of Middlerock City. There will be various games, smaller events, and vendors that are all loved and enjoyed by local city folk and travelers. Most importantly, foreign merchants are willing to travel through the rocky lands and harsh terrain just to behold the Fortune's Stone on this special day. This gigantic stone in the northern forest of Middlerock has been said to predict one's own fortune. Nobody fully understands why it glows when touched on this specific day but, over the years, the citizens of Middlerock have come to an understanding that it can predict whether their shop will be a thriving business or will face bankruptcy in the next coming year. Others believe that this is just a hoax by the locals to get a temporary boost in their economy with tourism and sales. Either way, everybody has their own reasons to look forward to joining the events of the Fortune's Fair. However, this year's theme is looking oddly enchanting, behind every fun game lies a clue of something sinister brewing...

---
A unique murder mystery adventure in a fantasy setting!

Can be completed in 4-8 hours, depending on players' skills.

7 interactive and fun fair-themed minigames.

Multiple endings and multiple solutions to the case.

An epic final BBEG battle.
Product Contents


🛒 Highly illustrated Games of Fortune's Fair Colored PDF, 19 Pages
🛒 Latest map version of Middlerock City (v0.0.3)
🛒 Isometric illustrated colored battle map of the final fight with grid

---
Additional Contents


🔒 Everything above and...
🔒 Games of Fortune's Fair Print-Friendly PDF, 15 Pages
🔒 Isometric Illustrated colored battle map: The Fortune's Fair
🔒 Day / Night versions of all battle maps
🔒 Grid & Grid-less versions of all battle maps
🔒 Linework versions of all battle maps (print-friendly)
🔒 High resolution 300 DPI PNGsm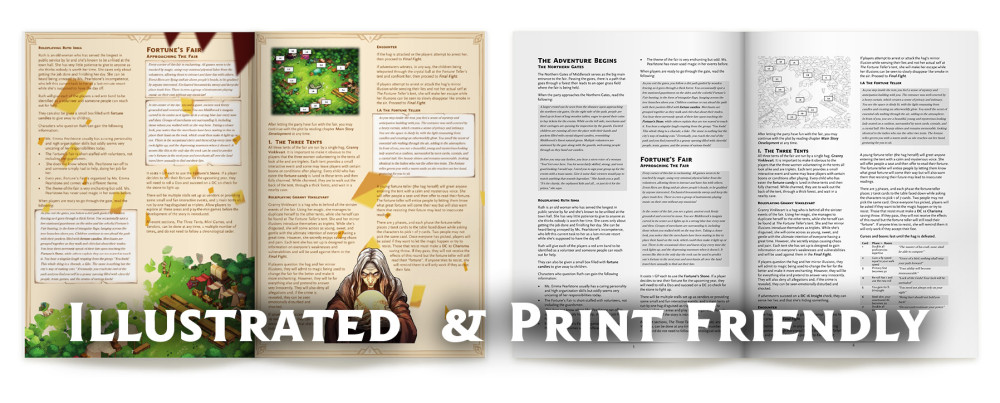 ᴀᴄᴄᴇꜱꜱ ᴏᴜʀ ᴇɴᴛɪʀᴇ ʟɪʙʀᴀʀʏ ᴏꜰ ᴀᴅᴠᴇɴᴛᴜʀᴇꜱ
ᴄʜᴇᴀᴘᴇʀ ᴛʜᴀɴ ᴅʀɪᴠᴇᴛʜʀᴜʀᴘɢ
ᴇxᴄʟᴜꜱɪᴠᴇ ɪʟʟᴜꜱᴛʀᴀᴛɪᴏɴ & ʙᴀᴛᴛʟᴇᴍᴀᴘꜱ
ᴀᴅᴅɪᴛɪᴏɴᴀʟ ᴇɴᴄᴏᴜɴᴛᴇʀꜱ
ᴘʀɪɴᴛ ꜰʀɪᴇɴᴅʟʏ ᴇxᴘᴏʀᴛꜱ
& 𝐌𝐎𝐑𝐄